Audio Conversion Services
It's common knowledge that old audio cassettes and reel-to-reel tapes degrade over time. It's also increasingly difficult to find equipment to play many audio formats.
At Video Copy Centre, we can convert your audio cassettes or tape reels to CD, WAV or MP3 formats. Audio conversion to a digital format makes them easily accessible and preserves them for the future.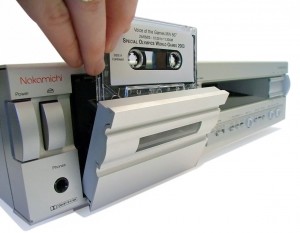 We convert your audio tapes to the latest digital formats such as MP3, WMA (Windows Media Audio), WAV, AIFF and Real. In other words, all formats that are compatible with the most popular players in use today.
When your audio conversion is complete, we can transfer it to CD or USB memory stick. If you prefer, we can give you a digital file of your audio tape and upload it for you.
Rest assured that your original tapes are handled with care at Video Copy Centre. We have been in business over 23 years, dealing with all types of old audio tapes.
If you need multiple copies of the final CD or audio files, we can offer you duplication, labelling and packaging services.